RESPECTability Respectful Relationships Education - Professional learning for a whole school approach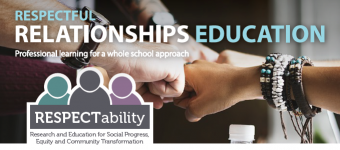 RESPECTability is a service provided by Dr Jennifer Nayler and Maria Delaney. They draw on contemporary evidence concerning violence prevention, and guidance from national and state authorities, to provide comprehensive and innovative professional learning and support for planning and implementing sustainable change across communities.
RESPECTability support school communities, from Prep to Year 12, to take a holistic approach to:
developing social and emotional wellbeing for girls and boys
preventing bullying and violence
cultivating inclusive and caring environments
maximising academic outcomes for all
supporting responsive curriculum, assessment and pedagogy design and enactment
building communities of inquiry and professional networks.
The 2 day workshop is being held in Brisbane and Cairns.
Brisbane workshop information and registration: https://www.eventbrite.com/e/respectability-professional-learning-for-educators-brisbanelogan-city-tickets-48367440316
Cairns workshop information and registration: https://www.eventbrite.com/e/respectability-professional-learning-for-educators-cairns-tickets-48882752629 
Start Date:
Wednesday, 5th December 2018
End Date:
Friday, 26th April 2019